Nintendo has revealed several release dates for upcoming 3DS titles such as
Paper Mario: Sticker Star
and many more, some of which were not revealed before. Some of these titles will be available both in store, and for digital download via the Nintendo eShop. Unfortunately,
Luigi's Mansion: Dark Moon
, which was scheduled for a holiday release this year has been pushed from a holiday release to a mid 2013 release for North America and Europe. No information has yet been given if Japan's release will be pushed back to a later date or not.
Castlevania: Mirror of Fate
which was announced for the 3DS has also been delayed to a 2013 release. So, though we have solid dates for some of the games we were looking forward to, we also found out a few anticipated games were delayed.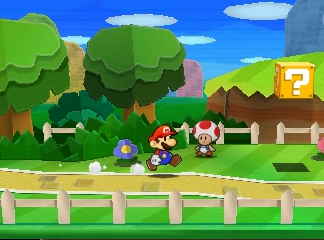 Below is a partial list of confirmed 3DS release dates:
• Art Academy: Lessons for Everyone! (Oct. 1) – Users of any artistic skill level can learn painting and drawing techniques that can be applied to real-life art projects, with optional, additional lessons available for purchase. The game also lets users share and download certain game content via SpotPass.

• Crosswords Plus (Oct. 1) – More than 1,000 professionally designed crossword puzzles will challenge players at any skill level. They can also receive and share bonus puzzles via StreetPass or connect their Nintendo 3DS to the Internet to receive free additional puzzles via SpotPass. The game also includes other game play modes such as Wordsearch, Anagrams and the new Word of the Day.

• Sparkle Snapshots 3D (Oct. 18) – Launching exclusively in the Nintendo eShop, this downloadable game is a fun photography application that lets you personalize your 2D photos by adding 3D layers of stickers, ribbons, pens and other effects. Users can then share creations wirelessly with friends or transfer them to an SD card and email them.

• Skylanders Giants from Activision Publishing, Inc. (Oct. 21) – Fans can look forward to more than 20 new inter-action figures to collect, including Giants that are twice the size of regular Skylanders and new LightCore Skylanders that light up both in the game and in real life when they are placed on the Portal of Power.

• Style Savvy: Trendsetters (Oct. 22) – Players can run their very own full-scale fashion shop and spark a fashion revolution by helping customers keep up with current trends, buying new clothes for their customizable store and sharing their creations with their friends online.

• Professor Layton and the Miracle Mask (Oct. 28) – Experienced fans and newcomers to the Professor Layton series can solve dozens of fascinating puzzles as they work their way through a new mystery storyline. Players can even download one additional puzzle per day for 365 days, starting on game launch day, at no additional charge.

• Freakyforms Deluxe: Your Creations, Alive! (Nov. 5) – Players can create their own creatures and use them to explore a planet that they customize. Freakyforms Deluxe: Your Creations, Alive! contains new features not found in the original downloadable title, such as dungeons to explore, enhanced creating capabilities with more parts to choose from and new special powers that can be used to further personalize the creatures. The game also features Download Play, which allows players to share the creative experience with friends who do not have a copy of the game.

• Paper Mario: Sticker Star (Nov. 11) – Nintendo's classic Paper Mario franchise gets a fresh 3D look in its hand-held debut. Stickers are the backbone of Mario's newest adventure in which players use stickers found in the game to not only win battles, but to solve puzzles as well.

• Disney Epic Mickey: Power of Illusion from Disney Interactive (Nov. 18) – Inspired by the classic Castle of Illusion Starring Mickey Mouse, this game features new ways for Mickey Mouse to interact with a 3D game world using paint and paint thinner.
Source one
Source two