The 3DS game
Kid Icarus: Uprising
comes with a pack of AR cards. These cards represent characters, enemies, and weapons in the game. By scanning these cards, players will receive their in-game idol. Additionally, players can scan them to watch augmented battles between two cards.
Earlier this year, Nintendo offered a variety of ways to obtain more cards. People could obtain some from the magazines Game Informer, Gamer, and Nintendo Power. Club Nintendo members could obtain another set. People who attended Gamestop demos of the game received booster packs. Finally, Nintendo gave away more cards at various convention held earlier this year such as Pax East.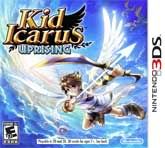 Nintendo plans on distributing the second series of the cards beginning August 3rd. The second series include more weapons, characters, and enemies. However, the second series also include location cards. Now people scan them to add an environment to their augmented battles. People will be able to obtain these cards at the Nintendo Store in New York or through select retailers. People attending either the upcoming convention Penny Arcade Expo or New York Comic Con will also be able to obtain these cards at the Nintendo booth.
Source