To date, there are eight Nintendo Select titles available in North America (
Animal Crossing: City Folk
,
Mario Super Sluggers
,
Mario Strikers Charged
,
Punch-Out!!
,
Super Mario Galaxy
,
Super Paper Mario
,
The Legend of Zelda: Twilight Princess
, and
Wii Sports
). Beginning June 10, Nintendo plans on adding two more titles to its Nintendo Select collection. They are the classic GameCube games
Pikmin 2
and
Mario Power Tennis
. These two titles will be the first of the New Play Control! games (GameCube games that are enhanced with Wii Motion controls) to be added to the roster. Like all Nintendo Select games, they will retail for $19.99.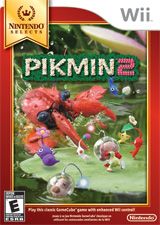 In related news, the Wii titles
Donkey Kong Country Returns
and
Super Smash Bros. Brawl
will have their price reduced to $29.99.
Source