Nintendo very recently gave up some new informational details regarding
Pokemon Conquest
. These details have been hinted at before but are only just now being explicitly leaked. Of these details, we've learned of things such as Perfect Link that allows you to to link with Pokemon encountered in the game to possibly recruit them onto your team as well as make them more powerful, depending on the rank you are given when you attempt to link, the ranks coming in Bronze, Silver and Gold. This seems like this game's non-canon mirror to the Poke Ball and training in one.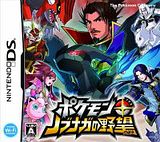 There are various other features as well, which include, but are not limited to:
Evolution: There will be a new system called the Link Percentage that gauges how strong a Pokemon is in accordance to its trainer, and when the percentage gets to a certain point, Pokemon will then evolve. For Pokemon like Eevee that evolve with certain items, those items will be available at different points throughout the game and the Link Percentage will most likely not have to be a certain point for those Pokemon to be eligible for evolution, but details on that are unclear as of yet.
Transition: This game allows 'Warlords,' who are the player characters, to evolve into stronger forms, thus making their Pokemon stronger. Warriors, who are the people/Pokemon being recruited to strengthen the kingdom against enemy forces, are not able to transition, or evolve, which makes the Warlords unique in this respect. A Warlord will transition based on how much the player uses them (as they can opt to switch between Warlords and Warriors alike, similar to Pokemon themselves) and after one transitions, their stats are boosted and those raised states will have an influence on said Warrior/Warlord's Pokemon.
Passwords: Similar to cheat codes, players will be able to use passwords to create mass outbreaks of certain types of Pokemon. This is this game's parallel to DPPt's Swarms. These passwords will allow players to link with these rare Pokemon early in the game to strengthen your team. Passwords are suspected to be released to the public en masse in special event form rather than having to do certain things in-game to receive them, so when this game is released on June 18th, be ready.
With just these few details, we can be sure that the game will be incredibly interface-friendly for the gamers who love to be in power at all times.
source