Very few franchises have taken quite a beating like
Sonic the Hedgehog
has in the last decade. Since
Sonic Adventure
for the DreamCast, each new Sonic game afterwards has been awful, if not worse. All hope hasn't yet been lost though, as the spiky blue hedgehog has had moderate success with
Sonic Colors
and
Sonic the Hedgehog 4: Episode 1
, but Sega really needs to make a statement for the icon to make a glorious return to gaming.
Sonic Generations
aims to be that game.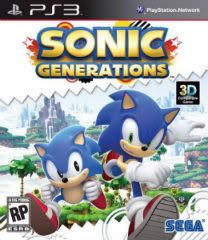 Console: PlayStation 3, Xbox 360, PC, 3DS
Release Date: 11/01/11 (NA); 11/04/11 (EU), 12/01/11 (JP)
Publisher: Sega
Developer: Sonic Team(PS3/360), Devil's Details(PC)
Players: 1
ESRB Rating: Everyone
As mentioned above,
Sonic Generations
is a game on a mission. A mission to regain its dominance as a platformer and make up for the horrific past decade Sonic fans have suffered through. If Sega isn't in do-or-die mode by now, they should be. After the awful 2006 release of
Sonic the Hedgehog
and the even worse 2008 release of
Sonic Unleashed
, the once-great publisher really can't afford many more falters. With that said, is
Sonic Generations
the huge lift that the series needs to become relevant again? Skeptics have their justifiable doubts, but we won't really know until the reader finishes. Two worlds collide in this review, and it certainly can't hurt the franchise any more.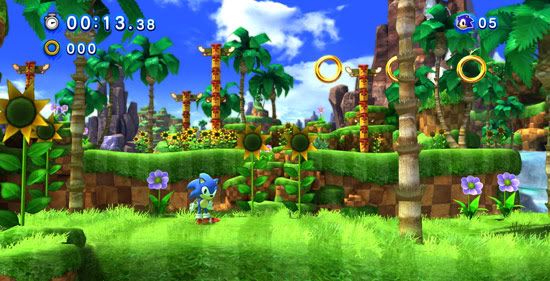 Oh my; it's Sonic's birthday! God knows how old he actually is at this point, as his age, along with most of the others', has changed with game and era. Regardless, it's a surprise party and everyone's invited. The main cast, Team Chaotix, Blaze the Cat and Rouge the Bat have all gathered in what looks to be the Green Hill Zone to celebrate Sonic's birthday with the gift of his all-time favorite chili-dog. All is well and good until, out of nowhere, a rift in the sky appears and sends a powerful blast of wind through the area followed by a giant black monster known as the Time Eater. Not much is known about this creature other than he's has the power to manipulate time itself, and it does so by attacking Sonic and sucking all of his friends into various rifts sending them to several places throughout the history of the series. After our hero comes to, he finds himself in a white space, where time no longer moves or exists. Now he's left alone to deal with this new threat, save his friends, and restore time as we all know it...or is he? Well, the answer is no. It's impossible to avoid a spoiler here, as it's on the cover and a major part of the game. There is a second Sonic along for the ride, more appropriately, the classic Sonic from his Genesis days. So, with that said; The duo can't possibly fail, right?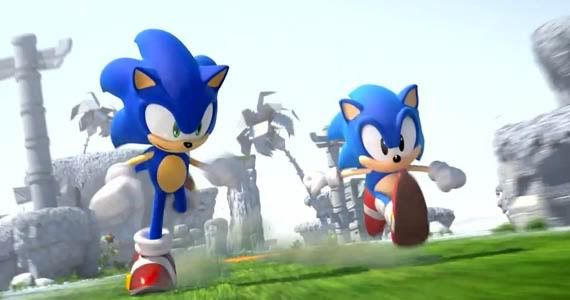 Now, the Sonic franchise has never been known to be lacking in the graphical department, what with the originals looking great for the time (
Sonic Adventure
being probably the best looking game of the last generation of consoles), and even the 2006 flop had some beautiful cutscenes. Luckily,
Sonic Generations
is no slouch, and even improves on what flaws more recent installments have had. As a platformer being built from 20 years of history, nearly everything looks gorgeous. Just about every detail that could be made has been made. When you stop and look at the scenery of the stages you're racing through, you see nothing but really hard work put into making this game look good. Even when the speed goes overkill and everything starts to blur, it still looks very nice which is a great improvement from the ultra-speed installments of late. Not to mention Classic Sonic, while still being retro-styled, looks pretty good himself. There's barely even many framerate issues I've found within this game. The only negative I really have at all would be lip-syncing, which is off, but better than it's probably ever been. It doesn't all look like psychobabble with voice over top. "Eggman's" character design has dropped in quality a tad as well.
Much like with how it looks, the Sonic games were always above average in the field of audio. No, that does not include voice acting. We all know the Sonic voices are among the worst in gaming history. That said,
Sonic Generations
lives up to and even succeeds in all fields of sound. The music is still great, classic tracks are on the game, alongside remakes of said tracks, which are still nice to listen to. The sound effects are updated versions of the same jumping, revving, and bouncing sounds from years past. If you don't get tired of the same effects over the last twenty years, you'll see no issues here. However, here's a surprise to just about everyone, including even myself; the voice acting isn't horrible! Compared to every installment since voices were added,
Sonic Generations
offers the best voice work for the characters, hands down. It's still not perfect, or really even all that great, but it's less ubiquitous and it actually sounds like they tried to make it sound relevant for a change. The tone isn't as...insane, I guess would be the word. All in all, music's great, sound effects are reminiscent, and the voice acting is finally borderline tolerable.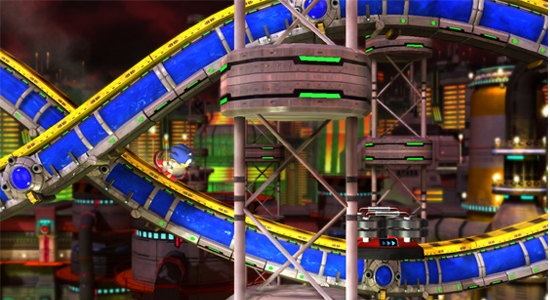 First thing's first, there is no giant world to get lost in and find a bunch of meaningless people.
Sonic Generations
is based entirely off of a "hub" area, a linear world that has everything you need in a left-to-right path. THANK YOU DEVELOPERS. Now, this is where the game can get a little tricky for some players. There are two Sonics in
Generations
. Respectively, they are both controlled differently. For example one is only used as the side-scrolling platformer, while the other includes more of the camera-behind speed running seen and sometimes hated in the newer games. No worries there though, as the latter is finally a controllable scenario, and isn't just the player mashing jumps at light speed hoping for the best. Most players will take sides in what they prefer to play, but both must be played to progress. As mentioned, both Sonics are controlled separately. One runs with standard jumping and spin dashing abilities while the other utilizes the homing attack and boost as primary methods of movement. It can confuse players at first, but thankfully there's also a skill shop available to add powers new to both Sonics that can better set them apart so you know who you're using. Just pay attention to which Sonic you have out as it can be quite a headache running into stages with the wrong Sonic. However I must praise the fact that both styles are used to near perfection, keeping the high speeds we all know, while keeping the game fully within means of control.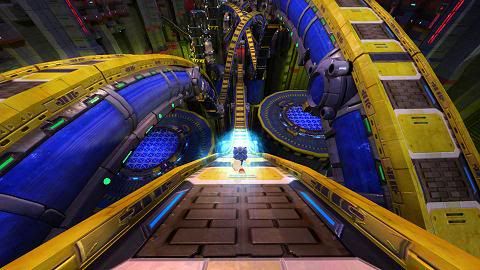 Sonic Generations
is designed to be both a very short game to finish, and one of the longer Sonic games around. The storyline will take you all but a few days to beat, and if you want to leave it at that, you can. However, if you go more in-depth with the game, you'll see that there are a ton of unlockables to find. Everything from music, to artwork, to skills, this game have plenty of it. To unlock these things, you are given missions scattered all around the hub world to complete, which are completed under various circumstances, including needing certain rings to finish, using the help of another character, racing a ghost, and much more. If you like to be a perfectionist, this game works wonders for you. The trophies/achievements take a lot of time and practice to collect, and the unlockables are plentiful. As I said, this game can be as short or as long as you want it to be.
One important thing worth mentioning is that the 3DS version of the game is a different experience. It has the same storyline, but the game plays much similar to
Sonic Rush
. There are also different stages and different bosses, and the game is a bit shorter. The game's graphics are also limited based on the Nintendo 3DS specs (modern Sonic is basically running in a 2D plane). The 3DS version does support StreetPass, and it does feature online multiplayer play while the other versions have online time trials.
If I haven't shown enough enthusiasm about
Sonic Generations
, I apologize, but believe me; hope is not lost. With this installment, Sonic & Co. is finally starting to get back to being a great thing in a gamer's life. If SEGA can keep their developers on the path that
Sonic Generations
has taken, the horrific stigmata Sonic has taken in the last decade can finally go away, and people can start to love the blue speed demon again. No more ridiculous character side-stories, no more unbearable voice acting, no more harbinger-of-hate gameplay. Just good old (and new) fashioned Sonic the Hedgehog done right. It's not too pricey a game, and can even be downloaded (PlayStation Store, Xbox marketplace, Steam), if one is too lazy to go to their nearest gaming store. With confidence, I can say that we have a winner, we can only hope that SEGA and Sonic Team don't mess it up.
The console and PC versions of
Sonic Generations
receive a well-deserved 8 out of 10.