Every form of medium has its classic. Music has Pink Floyd's: Dark side of the Moon, cinema has Pulp Fiction, and literature has Animal Farm. We have The Legend of Zelda: Ocarina of Time.
All of these classics have undoubtedly left a legacy in their wake, being labelled as 'overated' in the process. Although each of the other classics mentioned can be labelled as overated, Ocarina of Time deviates from the norm; it truly is worthy of its legacy.
A major concern many people had with the idea of a '3D-Make' was that it would be a way for Nintendo to squeeze the bank accounts of their long term fan-base with a lazy port of the original and charge full price for it. Put those qualms to rest readers, for this is not the case.

Console: Nintendo 3DS
Developer :Grezzo
Publisher: Nintendo
Players: 1
Age Rating: E / 12+
Thirteen years have passed since the original Ocarina of Time hit our N64's, influencing many gamers, myself included. Ocarina of Time simply revolutionised gaming as it is today; from lock-on targeting to automatic jumping, it's safe to say that Ocarina of Time raised the bar for the games we play today.
To start, Grezzo and Nintendo have built this game from the ground up with a new graphics engine, transforming the amazing world of Hyrule into a beautiful world full of colour and vigor. Alright, the original had that too, but the sheer amount of effort that went into bringing the art style and graphics to that of the original concept art is very well done.
Obviously graphics don't make gameplay, but the graphical overhaul has allowed Nintendo to give Link a personality we never really got to see in 64-bit. Since he doesn't speak, a lot of his personality and reactions to what's occurring around him come from his facial and body expressions which have to accurately portray his emotions and they do it amazingly.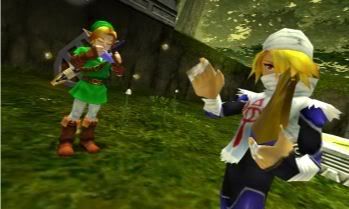 There are some very well done cinematics in this game
The structure of the game is simple: you have a destiny to fulfill and a quest to complete. It's somewhat straightforward with Link being able to just go from temple to temple without so much as a stop off. You probably won't choose to do this though--believe me, there are a lot of distractions in the form of collectibles and side quests. These are not just the simple 'go there, get that, here's 5 rupees' sort of quests; no, these quests actually give rather substantial rewards you will most likely want to have on your quest.
Temples are well designed, starting from a simple puzzle into complex brain teasers. Even with this complexity the temples manage to 'flow', allowing the player to choose what to do next out of a multitude of options. Keys are found throughout dungeons on a regular basis, so it becomes a matter of choice when you see about 6 locked doors and you only have one key. The way Nintendo managed to mesh the layout of the dungeons so seamlessly is what adds to the overall satisfaction of the game.
Fans of the N64 original will notice a major increase in the frame rate. It may not sound like a big deal, but seeing Link's animation run so smoothly is very fresh and adds more to a game that many of us have already played.
Nintendo have also done a good job in utilising the 3DS' main features with the gyroscope and 3D being used very efficiently and to a great degree of success.
Gyroscope controls help make aiming Link's many weapons that much easier and satisfying. Anyone remember the shooting gallery? Yes? Well now it's a breeze, if you have the space that is, because moving the 3DS around whilst playing on the go can feel restrictive and awkward. Expect a lot of stares if you start moving around the train trying to shoot a Tektike.
Next the system's selling point, the 3D. The 3D in this game is unbelievably good with Hyrule looking that much more tangible. This is 3D you will want to leave on and something that really has to be experienced--trust me, it looks amazing. However, the two aforementioned new features really don't work well together, as it is nearly impossible to aim with the gyroscope whilst trying to maintain the 3D effect. Fortunately, both features can be turned off.
Another inclusion in this masterpiece is a Boss Rush mode where you can fight bosses you have already defeated. This does feel a bit tacked on but there is fun to be had in beating down some of the bosses as quick as possible. Although Nintendo really haven't gone the extra mile with this feature, as there is no inclusion of an online leaderboard or something similar, it's not a big deal. It would have been nice though.
Another notable feature is that the bonus 'Master Quest' mode is unlocked after the game's completion, which is a mirrored--and quite frankly weird--remix of the normal game. It's worth playing for the extra challenge and some of the bizarre things you get to see.
Boss rush is a fun little unexpected addition
Lastly, I have to mention the music and sounds of this game. This is music in gaming at its best. It's so good that Nintendo decided to reward early buyers with the soundtrack through Club Nintendo.
If you buy this game expect to be humming at least two songs of this game a day. Even years later still expect yourself to be humming the 'Song of Storms' to make it rain. Despite the absolutely amazing soundtrack, the MIDI music just doesn't have the same impact on our 21st century ear drums. Unfortunately, Nintendo has not included the remastered orchestral remake in their remastered game. It's a small thing, of course, that doesn't detract from the game for first timers, but for Ocarina of Time veterans like myself it's a minor disappointment.
Expect to play one of these....A lot...
I really wanted to give this game the perfect ten, but it took me a while to notice that revolutionary features like lock-on targeting and horseback have been improved by other games since the original release. Ocarina of Time veterans will see this as blasphemy, but try to get rid of the nostalgia for a minute and think: is this really as perfect as it was back then?
In the end though, it's still Ocarina of Time: the best game of all time. Veterans will know what to expect; it's still around 30 hours long, it still has the same great tunes, and it still has the Water Temple (which is bearable now, thanks to items and iron boots being mapped to the touch screen). In short, if you have a 3DS, march out and get this game now, even if you have this game in the form of one of the many other ports, because you're getting a masterpiece. It's still the best game ever made, and quite frankly the greatest cartridge to ever come out of Nintendo's production line.
9/10

Graphics : 9/10
Sound : 9/10
Longevity: 9/10