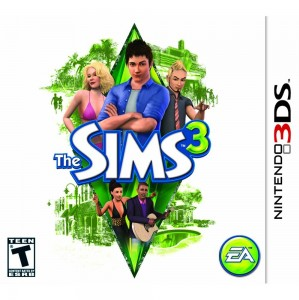 Published by: Electronic Arts (EA)
Developed by: Visceral Games
Console: Nintendo 3DS
Release Date: 03/27/11 (NA) 03/25/11 (EU) TBA 2011 (JP)
Genre: Life simulator, Social simulator
Price: $39.99
ESRB Rating: T for Teen

Introduction
The Sims 3 3DS
is the next port in
The Sims 3
franchise.
The Sims 3
has been on the Playstation 3, the Xbox 360, the Nintendo Wii, the Nintendo DS and now it will be released for the Nintendo 3DS on March 27th. There have been many games in the Sims franchise, some are duds and some are great- this one is great!
For those that have never played
The Sims
franchise, one of the largest and well known franchises in videogame history; The Sims is where you create a sim and live life with that sim any way that you want to! It's like you are living life inside a game and you can do just about anything. Many people enjoy playing these games, but some do not and think that they are boring. Personally, I like playing these games for a short period of time but after a while they get somewhat insipid.
Visceral Games
is a gaming development company owned by Electronic Arts (EA and is led by Vice President and General Manager Glen Schofield. The studio falls under the auspices of Senior Vice President Nick Earl who manages all Games Label studios in California including Maxis and EA Los Angeles. Visceral Games is located in Redwood Shores, California at the same site location as the EA corporate headquarters- Visceral Games has a branch office in Melbourne, Australia. Visceral Arts has developed titles such as
James Bond 007: Agent Under Fire
,
The Simpsons Game
, the
Dead Space
series, the godfather series and the Dante's Inferno series.
Gameplay
For the first time ever, players can enjoy a brand new, 3D adventure with
The Sims 3
for the Nintendo 3DS. From the creators of the world's most popular life simulator franchise, this game is now maximized for a fully 3D world. Experience the Sims in 3D with brand new features and a great new outlook!
Sims 3 for the 3DS
will be very similar to the
Sims 3
for other consoles as well. You can still customize your character, interact with other people the same way, receive karma, talk to the same friends, and overall just have a good 'sim' life!
Exclusive Nintendo 3DS Features:
Planned for the 3DS launch.


New camera angles that take advantage of 3D.


Exclusive karma powers.


Face-mapping feature.


Take a photo of yourself to transfer to your sim and have your sims look like you.


Possible online functionality
Conclusion
The
Sims 3 3DS
looks promising so far, and if you enjoy playing
The Sims
then I would suggest playing the one for the 3DS. Though, if you already own
The Sims 3
then I would suggest not buying the one for the 3DS, because they will be very much alike and it would just be a waste f $39.99.
The Sims 3 3DS
does deliver some new features though, and overall it looks like it will be a great appealing game!
Screenshots: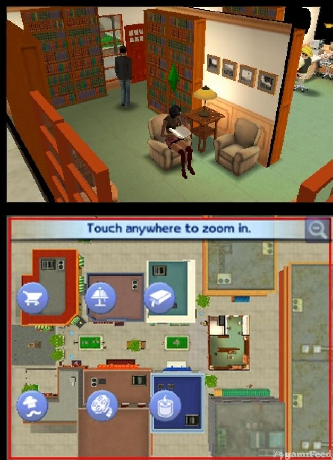 Videos:
The Sims 3
trailer
Source 1
Source 2