EA's Summer Showcase has announced several games from Electronic Arts, many of which will be released on the Wii U. Among these,
FIFA 2013
was confirmed for the upcoming console. EA also showcased new game play features that take advantage of the Wii U's GamePad.
FIFA 2013
producer Matt Prior revealed a new instant messaging system to chat with your friends while you are playing, new online features, new game modes, and technical information about the game's graphical capabilities.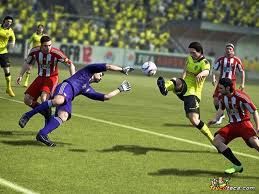 First Matt Prior talked about the graphical enhancements of the game with the new Wii U hardware. Matt Prior said that the Wii's hardware set them back in previous installments to the FIFA series, but with the Wii U they plan to create a much better experience.
"One of the common complaints is the crowd, and if you look at the crowd on the Wii U it's double the resolution.…we had limited resources in which to improve, so we wanted to make sure we got the biggest bang for the buck, if you will. Obviously the pitch is something you're staring at like 90 percent of the time when you're playing, so crowd and pitch were two areas we focused on."

"…and there are a couple of features that we have been able to graphically enhance. It's not going to be miles ahead. But two things we have improved just in terms of the fidelity and quality are the pitch. If you have a look at the pitch texture there's a lot more detail in it and we're working on that as we speak to hopefully improve it even further."
Prior went into detail the focus his team has given when trying to implement an online feature to the game, with online play being a staple to popular video games Prior's team made sure that online game play would not be left without new content.
"We have to take a point in time when [the game's] stable and then bring it over and then all the work we're building on top of it, so in terms of where this is at, it's not [FIFA] 12, 'cause there's a lot of enhancements from 12, it's not 13—it's kind of somewhere in between at a core level.…obviously, on top of that we've got all the new Wii U functionality, so there's a lot in our game that's not in 360 and PS3."

"We wanted to make sure we got the most popular feature in [versions for] 360 and PS3. Either online or offline, the most popular feature in it is an online mode called Online Seasons, so that's in the Wii U [version]. Some of the more advanced modes that took many years to kind of come onto 360 and PS3, things like Ultimate Team, they aren't on it at launch, but the biggest one in terms of popularity is."
"That's one of the good things, right? It's made FIFA almost multi-layered in the sense that how you want to participate with it, you can play as you would 360 and PS3, you can manage, or you can kind of combine the two with a friend and he can do the hard work."
The most interesting part of the interview was the new features taking advantage of the Wii U's touch screen Game Pad. Friends can now be be invited to a match or send a message by the tap to the touchscreen. Prior also stated that with the new controller his team programmed new controls for the Game Pad.
"A friends tab that's always there in the front end on the [Wii U GamePad] so you can tap it, you've got a list of friends. (It pulls from) the friends list from the Wii U console."

"You can tap an invite to them, or you can tap a message to them. Obviously, touch screen messaging is much better than the 360 Live virtual keyboard where you're moving it up and down. …we really want to connect friends and allow people to game with friends as easily as possible."
"We got people from within the studio who perhaps aren't hardcore twitch gamers and put it in front of them and got their feedback, and it was interesting because instantly, you give them a controller and they're like 'what's a button do?' You give them [the GamePad] and tell them it's 'touch screen' and instantly they kinda get it because mobile phones, airline entertainment systems, it's all touch screen. So that touch screen ability is a real way into the world of people for us because people just instantly get it, which is great."

"Because you can manage, you don't really need that high-intensity twitch gaming where you've got to be concentrating all the time. It's kind of 'kick back, maybe put it down, and do a few management changes'. You don't need to be panicking all the time."
FIFA 2013
will be a launch title for the Wii U later this year, and overall EA has done a great job of adding new game play to it's next installment of the FIFA series and we should all look forward to this promising title.
Source one
Source two