It was revealed at this years E3 that
Tekken Tag Tournament 2
would be coming to Nintendo's upcoming Wii U. During the event, we even saw a clip of Heihachi, one of
Tekken's
most popular fighters, eating a Mega Mushroom, and growing into a giant. Knowing Heihachi, I can only assume that his opponent was soon crushed underfoot...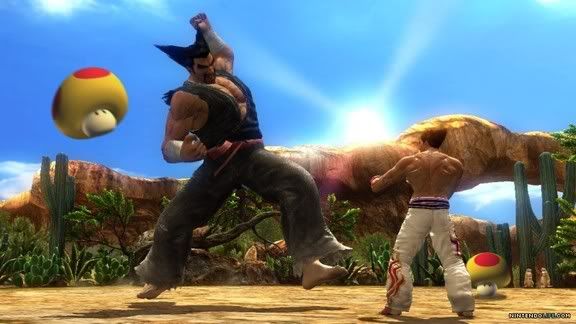 Will this be in the actual game, or was it just a funny spoof reel used to announce the game's arrival on a Nintendo console? Well, in a recent interview with
gamesradar.com
, Katsuhiro Harada, of Namco-Bandai told us that the Wii U version of the game will indeed have Nintendo-esque game modes, including what we saw at E3. Here is what Mr. Harada had to say when asked about any differences between this version compared to the other consoles:
Well, because of the controller, obviously there are going to be a few features that are more convenient because you can control them directly from the interface. But it's not like the overall game mechanics are going to change that drastically. There are going to be some modes that will be interesting, because they are very Nintendo like. Some of this was shown at E3, where a mushroom drops down and Heihachi eats it and gets bigger. You know Nintendo fans hearing and seeing that just exploded with excitement. The things that we can do because it is Nintendo are things people will be very excited about, but we can't go into it any further. That being said though, a lot of the online modes and customization on the 360 and PS3 will be geared towards the core audience a little bit more.
Hopefully we will not only get these new Nintendo themed modes, but also everything the 'core audience' would want as well!
Tekken Tag Tournament 2
will be coming to other consoles this September, and is set to release sometime this Winter for the Wii U.
Let us not forget that the people at Namco-Bandai will also be playing a major part in creating the next installment in the
Super Smash Bros.
series. Hopefully with their technical expertise, tempered with the creative direction of Mr. Sakurai, we will have something to truly look forward to!
Source One
Source Two